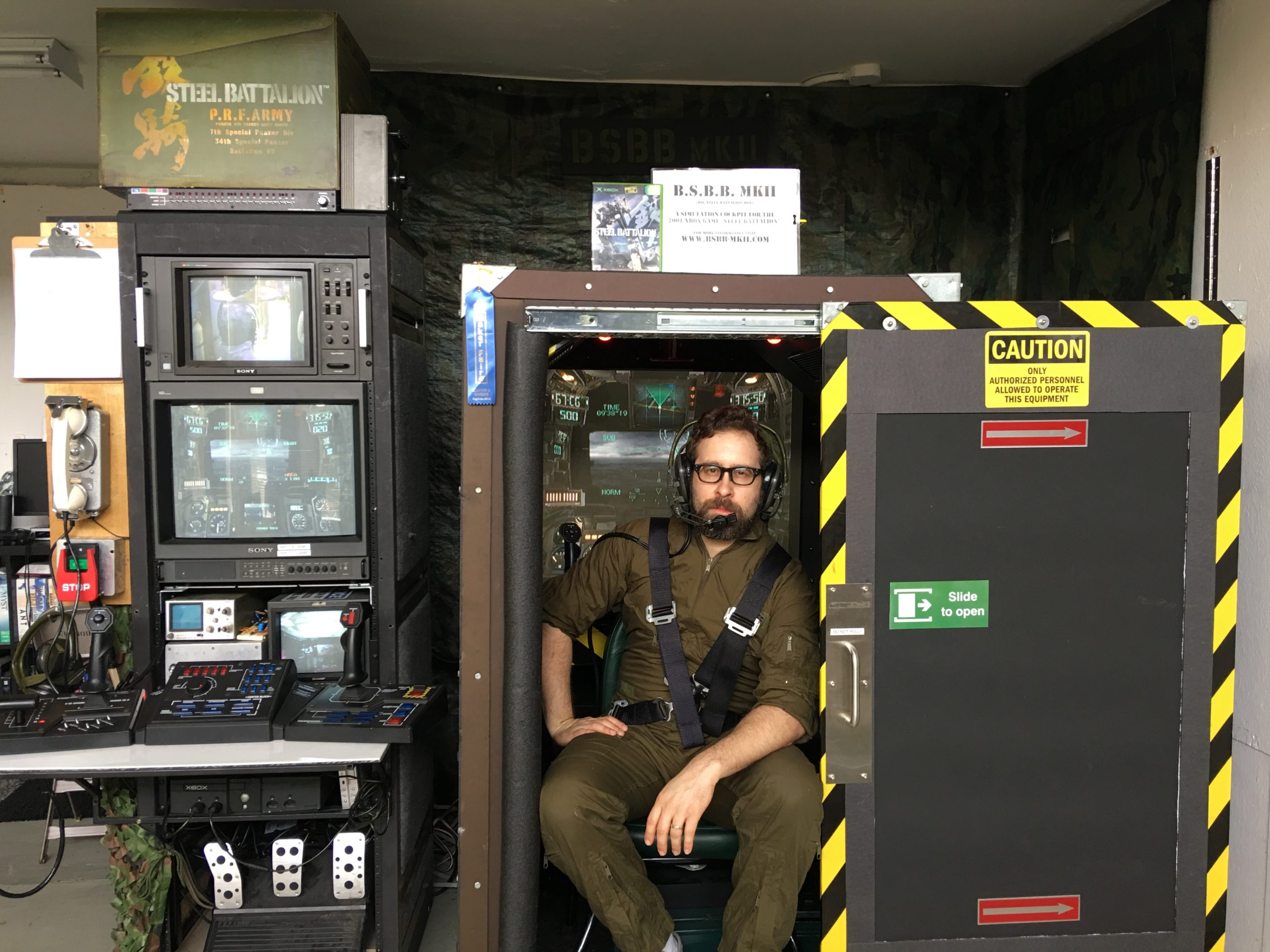 The "Big Steel Battalion Box" is an immersion cockpit for the mech simulation game Steel Battalion (Xbox, 2002), equipped with custom environmental stimuli.
It is also the platform for a cooperative metagame of communication for two players. While a rookie pilot comes to grips with the vast array of controls before them, their only lifeline is a coach who—frantically flipping through a simplified manual—tries to talk them through their first tentative steps into a dangerous world.
The first public exhibition of the B.S.B.B. was Nov 15th, 2014 in Brooklyn, NY.
Kill Screen Magazine covered the launch event play-by-play and really nailed the spirit of the project.
---
The B.S.B.B. made an appearance at the 2019 GDC in SF! It was was a great crowd to share the experience with; many fascinating discussions were had. More than one visitor gave it their resounding 'best in show'! Graphic Speak wrote up a lovely little piece, and we were also mentioned as an event highlight by 8Bit/Digi in their writeup.
---
The B.S.B.B. currently resides in the permanent collection of the The Museum of Art and Digital Entertainment — reopened at their new location in lovely downtown Oakland, CA!
If you're making a special visit for the B.S.B.B. please call ahead or email dave@bsbb-mkii.com to confirm it's operational at the time.
---
The B.S.B.B. Mk II made it to the Bay Area Maker Faire 2015 in one piece and a blast was had by all! We won a Blue Ribbon and got a great writeup in the Maker Faire Blog! Photos have been added to our Process Gallery.
---
We made Kotaku! Swoon. Now sh*t's getting real.
---

Got a lovely writeup from Polygon!
---
Mark Bussler of Classic Game Room gave the B.S.B.B. a nice shout-out in his Steel Battalion game review.